73
When it comes to VIP weddings, getting everything done with a perfection from sitting arrangements to the entry gates is on the responsibility list of planners, where security at the reception gate can be seen as the most important issue to be entertained with utmost care.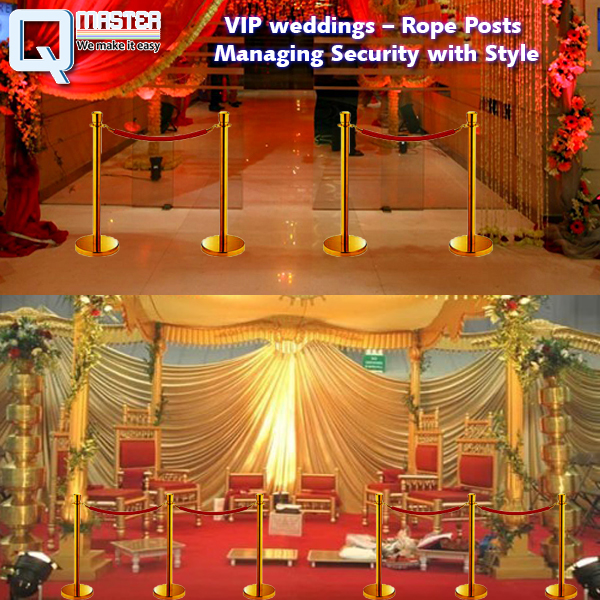 We, at QMaster, brings you a range of crowd control posts and particularly chosen rope posts for such kind of VIP affairs where celebrity appearances demand a more formal and classy feel in the décor along with no-comprise security arrangements.
Decorating your entrance with a black tie feel along with bringing a WOW factor to the safety of guests, QMaster velvet rope posts are available in three different color ropes (red, blue, black) and two separate kinds of finish ( gold/stainless steel).
Specifications of Rope posts from QMaster include-
Post height: 1000 mm

Post diameter: 51 mm

Base diameter: 320 mm

Weight: 7 kg
Why choose Rope Posts for weddings-
Choosing rope posts for the special event will give you-
Décor with style

Reception Area with a class

Red Carpet Look and Feel

Pleasant and warm entrance Foyer for the bride and groom

Suitable barriers for temporary setups

Cordoning of mandap or the high-level rotating stage

Restricted entry to the place where valuables are kept

Sectioned areas

Highlighted wedding ceremony area

Security with finesse.

Use of Rope Posts other than celebrity weddings:
Awards Ceremony

Gala Events

Birthday Celebrations

Night Clubs

Film premieres

Exhibitions

Other upscale celebrations
Tips to consider while installing rope posts at VIP events:
Earlier, we had suggested you some expert tips to help you in setting up rope post barriers at your event. You can have a look at this read by clicking on the following link and experience a more efficient setup –
http://blog.qmaster.in/queue-manager/top-6-tips-to-consider-while-controlling-the-crowd-with-rope-barricades/
Hire or Buy Rope Posts for Weddings & Other Special Events
QMaster offers the range of velvet rope posts along with other crowd control solutions like belt posts, sign boards, etc. So, add the security with style in the most affordable range by hiring or buying these queuing & barricading solutions.
You can send us your query at sale.qmaster@gmail.com and receive an instant reply from our sales executive. You can also call us at +91 9910825579 and order the product of your choice.
VIP weddings – Rope Posts Managing Security with Style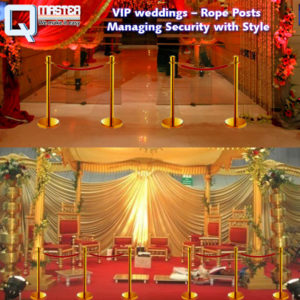 When it comes to VIP weddings, getting everything done with a perfection from sitting arrangements to the entry gates is on the responsibility list of plan