83
Providing almost the same functionality as Retractable Belt Barriers, the Velvet Rope Posts from QMaster are useful to provide guidance to your valuable customers along with giving those disciplined entries and exits of your place. The portable and easy to install Queue Manager Posts are now exclusively available at QMaster at Best Price.
They will know where to move and where not to go. They will stand where you want them to row-
Velvet Rope Posts or Rope stanchions offer a classic and stylish display that will undoubtedly go with any kind of décor. They will direct your customers without making them feel guided and controlled. These classic looking posts are ideal to be used in places like VIP Events, Hotels, Theaters, Malls, and Reception Areas etc.
The round crown top of the velvet rope posts give it a very smooth look and is save for the queuing people. Recently, the popularity of these contemporary posts has raised in the VIP red carpet events because of their looks and the class that they bring into the event.
Ideal for bringing the modern touch to the classic settings, these are also commonly used in the museums or exhibition centers and thus save the antiques from being touched by the visitors. They provide a safe viewing distance for the artefacts placed in the galleries and also offers gentle management for the VIP visitors.
Each post can be chosen from two available options i.e. Polished Gold or Stainless Steel finish. Users often order them as per their venue and colour themes. The built-in rubber protectors make them last longer and the easy installation process of these queue barriers gives you very quick deployment opportunities along with affordable cost. Not much external tools are required for setting up your whole queue management system and your venue will be ready with the high-end décor only within a few hours.
Rope Options in Velvet Rope Posts
Rope or we can say Velvet Rope from QMaster is basically of length 1.5 m. The material used is velvet over a synthetic base. And one can choose the varied colour options ranging from Blue, Black and Red standard colours to other customised options.
The color of the rope is usually chosen on the basis of the particular setting and theme of the venue. You can also choose from Gold and Steel (Silver) finish locking ends as per your preference.
Conclusion:
These Rope Stanchions can be used at different places for different purposes and when you order them from QMaster, affordability is the first thing that you can rely upon. We deal in good quality queue management equipment at the unbeatable prices. To order visit our site today or just give us a call on 9910825579.
Velvet Rope Posts- Exclusive at QMaster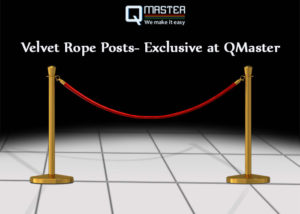 Providing almost the same functionality as Retractable Belt Barriers, the Velvet Rope Posts from QMaster are useful to provide guidance to your valuable cu