63
Are you looking for some crowd control equipment which can effectively guide the public and make your place look good both at the same time? We are providing you with the solutions that you can choose to revitalize the places with efficient queuing and ultimately the fast customer service.
The rope stanchions from QMaster gives you the option to choose the velvet ropes in different colours and thus offers you the opportunity to match the queuing equipment with the interiors of your place.
Each set that you buy from QMaster includes 2 posts and 1 rope. Plus you can also choose to buy them individually or as per your required configuration.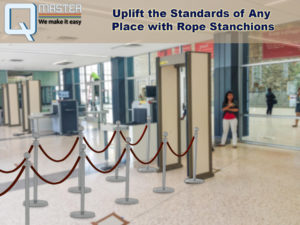 This flexibility, allows you to order the rope posts as per your desired queue management plan at your place while maintaining the décor at the same time.
The available options in queue posts and velvet ropes are as follows:
Queue Posts with Gold and Stainless Steel Finish – Giving you the perfect solution for queue management and crowd control, the poles through which ropes can be extended are available in two finishes that are: Polished Gold and Stainless Steel Finish. These poles consist of built-in rubber protectors and can be installed easily without much expertise and high-end external tools.
Velvet Ropes in the Rope Post– the robust and durable posts can be amalgamated with beautiful velvet ropes. The ropes consist of golden, and steel finish locking ends and are available in Blue, Black and Red color variations. The locking ends with an ultimate finish adds a style and modern touch to the queue posts from QMaster. You can choose from the available range of colors, all of which looks just best with any background.
Sign Boards as an Extension- One more product that can be seen as an added extension to the Queue Posts is Sign Boards. Easy to attach over any queue post, these Sign Boards are just best to show any message to the visitors. Easy to put and easy to remove from any existing barrier system, these sign boards can contain directions, instructions, menus and price list etc. in the most attractive way.
VARIOUS APPLICATIONS OF ROPE POSTS
Managing queues at crowded places.
Security Check at Cinema Halls, Ticket Counters, Exhibitions, Fairs, Corporate Events and VIP Events etc.
Indoor and Outdoor People Flow Control
Defining Restricted Areas for Advertisement
To Manage Walking Pattern or the Movement of the visitors
To get these rope posts for your place and to make it look vibrant as ever, you can call at 9910825579 or e-mail us at info@qmaster.in
Uplift the Standards of Any Place with Rope Stanchions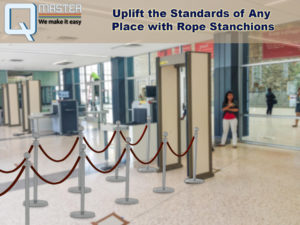 Are you looking for some crowd control equipment which can effectively guide the public and make your place look good both at the same time? We are providi