73
Yes, You Heard It Right!
QMaster has brought you huge discounts in its Pre-Diwali Sale! Now, you will find no reason to spend bundles of money for crowd controlled venues this Diwali Season.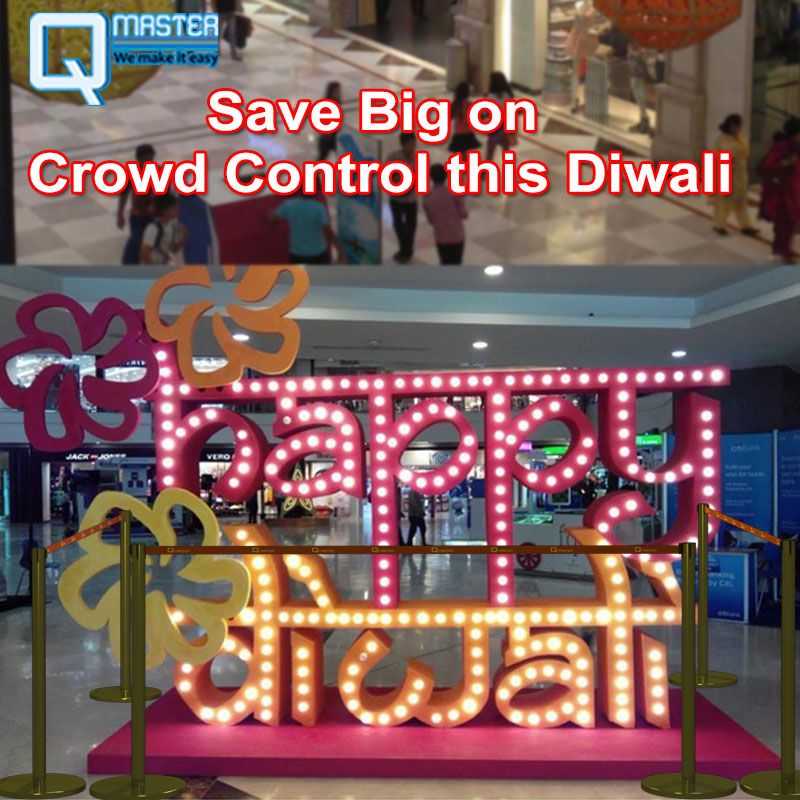 Save Big on the whole range of queue management equipment such as rope posts, belt stanchions, Retractable Belt Posts, Ropes, Sign-Holders and other crowd control systems.
So, Get ready to tackle the heavy crowds at your place this Diwali season and revamp your venue with the latest and reliable crowd control equipment at lowest rates. Promoting the in-store safety at rush places, QMaster is marking its presence in dozens of stores and is inviting you to be the part of this rush-free revolution.
Our Motto is to-
Make every place a safe place– Be it restaurants filled with people having Diwali treats with their friends or the shopping places packed with people buying new things, QMaster is dedicated to make every place a safe place.
Avoid Rush for the convenience– People pushing each other to move forward without any management leads to inconvenience for them as well as the working staff. QMaster avoids such rush with its well-design queue management systems and the crowd control equipment.
Maintain Busy Festival as a Happy Festival– QMaster makes every possible effort to maintain the busy, crowded festival as a happy festival and strive to make it free from any possible injuries.
Protect the elders and women community from rush related injury- Elders and Women are generally more prone to security risks. Hence QMaster takes special notes to arrange for their security at such festivals.
Tackle the queue jumpers to maintain peace– QMaster's retractable belt posts and rope posts are a tried and tested queueing solutions to keep peace and avoiding any trouble creators.
You can trust us for –
Orderly Entries– Rope Posts are best for entries with the festive-look. The ropes are available in different colors thus matching to the entire décor and enhancing the looks of your place.
Managed Paths– The customers can be guided with clear paths by retractable belt posts and thus can be directed towards the right direction without any manual intervention.
Crowd Free Exits- The exit gates can be managed well with belt stanchions to lead the people in queues.
Well-Informed Instructions to your customers– The sign boards with well-written short and concise instructions, can make them feel informed and thus ultimately happy with your services.
To shop these industry leading crowd control equipment with the best market rates, make http://www.qmaster.in/ the premier destination for all crowd management products this Pre-Diwali Season.
Save Big on Crowd Control this Diwali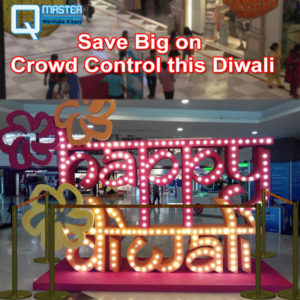 Yes, You Heard It Right! QMaster has brought you huge discounts in its Pre-Diwali Sale! Now, you will find no reason to spend bundles of money for crowd co