69
Crowd Control Barrier with an exquisite piece of rope makes up a part of a splendid interior. Rope Stanchions from Qmaster are made up from quality material, and its decorative finish gives your place a royal and luxurious look.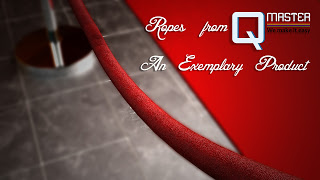 Use it for event management or daily crowd controls purpose these rope posts from Qmaster are just perfect for every situation. A unique feature of Qmaster Ropes includes its ability to match with every kind of interior. They just blend perfectly with the environment in which they are being used giving the interiors an elegant and stylish look.
Not just blending with the interiors, it influences the complete discretion and décor of the place giving it a classy look. Be it an Airport, bank, hotel, Multiplex, Retail Store, Event, Exhibition, Hospital or any other place Qmaster suits the needs of everyone.
Giving a VIP look to the area the velvet ropes are available in brass/steel finish locking ends. The velvet colors available are Blue/Black/Red giving it a royal look.
Uses of these exemplary ropes from Qmaster includes:
·         Guiding the public to their destination.
·         Monitoring crowd access to the restricted areas.
·         Keeping the waiting lines organised.
·         Giving structure to the crowd.
·         Making different sections of an area.
·         Roping off the valuables at exhibitions.
Some accomplished Features of the product:
Portable-Being light and movable you can just take it anywhere without unnecessary hassles.
Easy to transport-Flexible enough to be packed in a box thus can be transported anywhere with ease.
Easy to install -Easy to use locking ends simply let it attach to the stanchions.
Affordable-No worries about the budget. Genuinely priced product with no chance of overpricing.
Highly durable-Use it and keep using it. The product is durable enough to be used for years n' years.
Weather Resistant-Velvet based ropes can resist the changing weather conditions.
Perfect Finishing Material-The material used in the ropes is Velvet over synthetic material base giving it a shiny royal look.
Standard Length-Length of the rope is approximately 2000 mm making it a rope with standards.
Rigid-Easily adapt to the environment making it a robust and rigid product.
Easy to maintain-Just took it off the stanchions and put it aside when not in use. No worries about the wear and tear due to regular hanging in the stanchion.
For more information and product pricing visit: www.qmaster.in
Ropes from Q Master-An Exemplary Product
Crowd Control Barrier with an exquisite piece of rope makes up a part of a splendid interior. Rope Stanchions from Qmaster are made up from quality materia