74
Crowd management cannot be more difficult as it is at award events. Uncountable enthusiastic people gathered for fun filled evening, shouting and screaming with joy and anticipation to have a glance at their favourite celebrities do not care a bit about decorum and safety thus create a mess for others.
Awards events are happening ceremonies loaded with fun, entertainment and excitement for all the screen stars, their fans and the organizers. But, the most challenging part of such events is when excited fans lose their senses and break all the boundaries to meet their favourite stars at the gate. When glamorous faces walk down the red carpet, the crowd present over there cannot just control their emotions, and thus sometimes it becomes the matter of security breach for the celebrities.
To make these award shows more pleasant, and to maintain the discipline at such events, the only solution that is being used since years for the control and management of this enthusiastic crowd is Rope Barriers.
The Rope Barriers with velvet ropes of the matching color with the interiors and the décor (mostly it is red in the red carpet events), not only make the place look royal, but also adds an element of security and discipline for the VIP's coming over the event for their awards and the performances.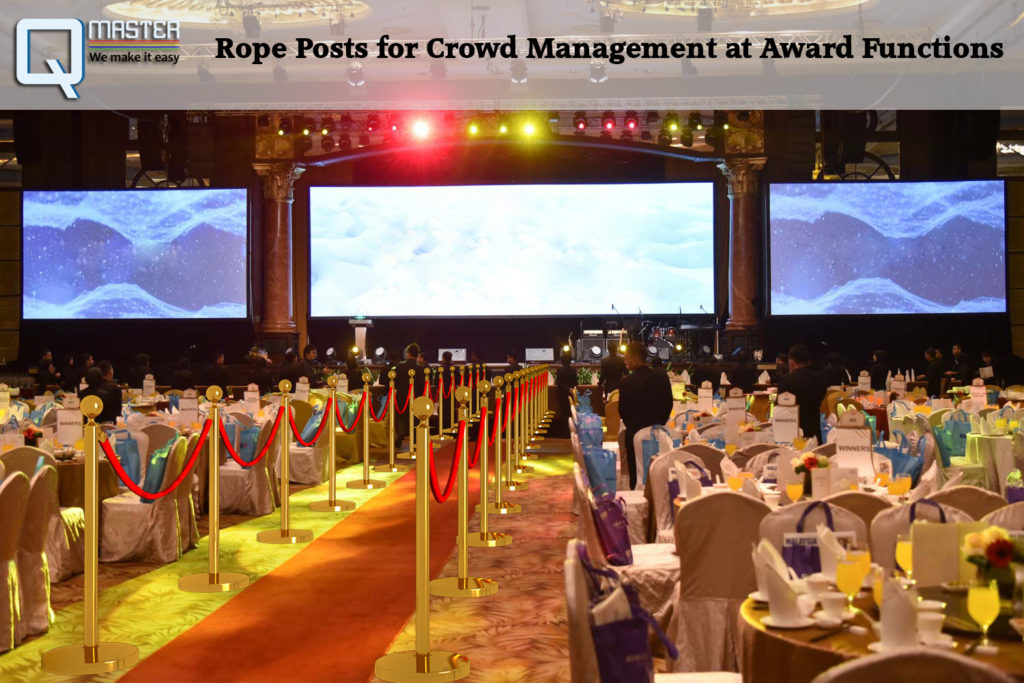 These queue posts with velvet ropes are being supplied by the leading crowd control and management equipment supplier company, i.e. QMaster, which is known for providing these products at a minimal price and best quality in the market.
Rope Posts with Velvet Ropes from QMaster are available in highly polished gold and stainless finish with built-in rubber protectors. These rope barriers are meant to be assembled quickly without requiring any high-end external tools.
Hence, no extra staff is required for the deployment of this useful equipment. If you too want to get these rope posts for your next award function or any other VIP event, you can contact us @ 9910825579 or e-mail us at info@qmaster.in
Rope Posts for Crowd Management at Award Functions
Crowd management cannot be more difficult as it is at award events. Uncountable enthusiastic people gathered for fun filled evening, shouting and screaming