64
QMaster's queue control and management equipment system helps you to manage even the areas with the heaviest footfall. The equipment including belt posts, rope posts, ropes, sign holders help you integrate the whole process within some well-defined area and thus manage the complex service process by providing better customer flow and easy movement between the counters.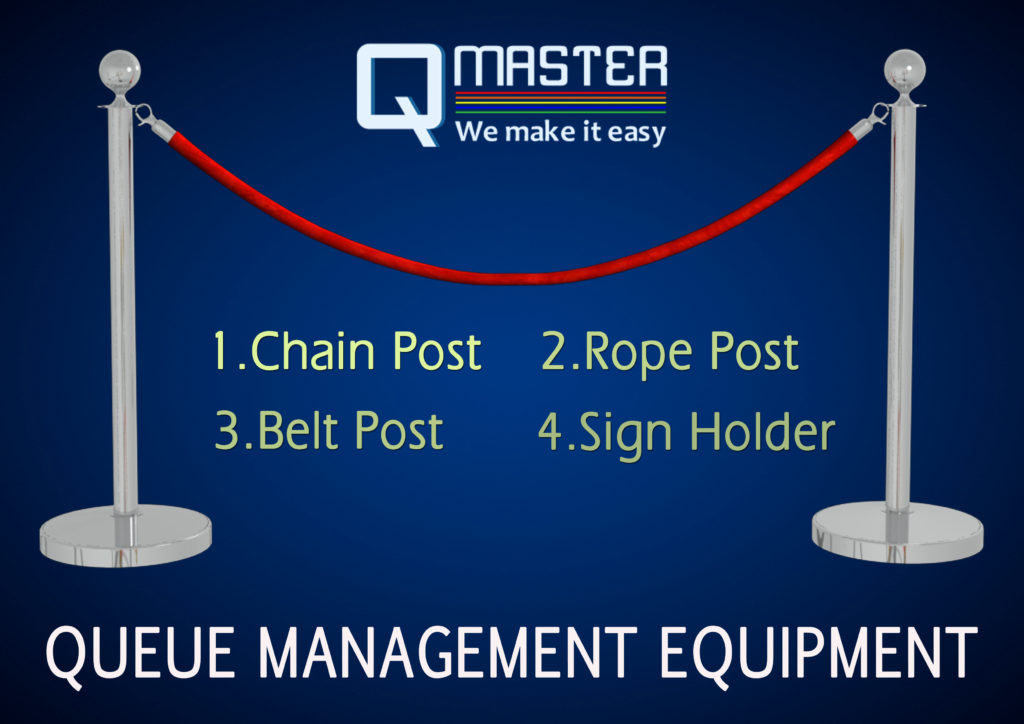 The Solutions at QMaster also helps the staff to easily handle the queries in the First-Come-First-Serve Basis and thus provides customer satisfaction for maximized profits. One can monitor the crowd flow, their preferences and can then install the queue posts in a way for optimized performance.
Benefits
Benefits of QMaster at your Place:
The equipment from QMaster helps you organise the workflow while helping you manage the priorities and time in a better way.
It increases work efficiency
It helps in better customer engagement and satisfaction.
Helps in improved profit percentage
Reduced Man Power Costs for Managing People Flow
The Customers will be well directed all the times
No confusions, Pushes and Jerks will be there
Sign Boards from QMaster can be installed on any Queue Post for better delivery of information
The solutions are completely flexible according to your needs. You can increase or decrease the number of queue posts anytime according to the footfall of any particular day.
Features
Features of QMaster at your Place:
Can work perfectly well in any of the places with heavy footfall like Retail, Education, and healthcare, Hospitality or other such areas.
Best for doing branding with the purpose. One can have their Logo or Customised Message Imprinted on Belts.
The Equipment is made from high-quality material and is available at the best price in the present market.
Can be easily installed to create new areas for the movement of people.
Scalable to any size of the organization.
Built-in rubber floor protectors are there in the equipment for protection.
Replaceable belt mechanism for comfort.
Portable stanchions for the ease of change in installation scheme.
Different products for the different kind of needs are there. Belt Posts for the Sober Requirements and Rope Posts for the more VIP Royal Look.
Universal 4-way band clips to integrate with different manufacturer units.
Interlocking belt ends to prevent accidental belt release.
Stainless steel rust resistant body for durability in products.
This way, if you too want to enjoy all these features and benefits of QMaster Equipment, all you need to do is just call us at 099108 25579 or e-mail us at info@qmaster.in
If you wish to take a detailed look at our products, you can visit our website http://www.qmaster.in
QUEUE MANAGEMENT EQUIPMENT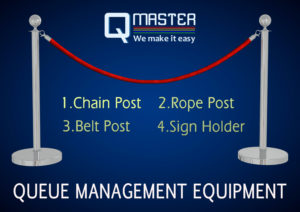 QMaster's queue control and management equipment system helps you to manage even the areas with the heaviest footfall. The equipment including belt posts,