70
Retail stores often need queue management equipment for their variable footfall each and every new day. And when it comes to cost-friendly crowd control equipment, belt posts, rope posts etc., QMaster has all that you need.
The variable range of barrier equipment is customizable according to your particular requirements and we have ropes, barrier posts and sign holders to ensure that your potential customers are well-managed at all times.
Giving your customers the view of classy and organized retail stores, we help them retain at your place for the longer time and thus help you increase your profits by the significant number.
Our Bestseller deals include:
Apart from managing the crowds at retail stores, we help you control them at events and exhibitions, public areas, malls, hospitals, restaurants, educational institutions etc.
The variety of available colours and finishes, help you match your queue equipment with the theme and décor of the surroundings, thus giving your place a more decent and freshly organized look.
Various Features of our Queue Management Equipment Include:
Unlimited addition of posts allowed according to varied footfall – You can add or remove the posts anytime according to your convenience.
Multi-direction queue management facility– The multidirectional hook makes you able to do the queue management in all the four directions.
Quick and Easy hooks for clip-on– You do not require much expertise to install this queue equipment.
Secure and Safe Locking feature- The interlocking feature is made secure for the webbing to be restored in a safe manner.
Brand enhancement and advertisement- The belts can be embedded with screen or digital printing of brand logo, tagline or any particular message according to individual requirements.
Stable and Sturdy- The base of these queue masters is stable and sturdy thus making this brand reliable among the regular users.
Customizable Colors and Sizes- The colours of ropes and belts can be chosen according to the existing theme or décor of the place, hence giving the more personalized look to the area.
If you wish to inculcate this amazing queue management and crowd control equipment into your place, you can enjoy them at the offer of price starting at 999/-* only. We deal directly with manufacturers and offer the top-quality customer facilities, speedy & timely delivery and the lowest pricing on the complete range of queue manager products. Order Today to get maximum discounts.
Queue Management and Crowd Control Equipment for Retail Stores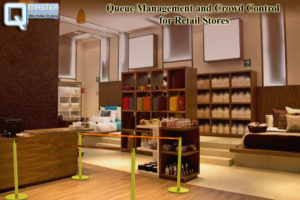 Retail stores often need queue management equipment for their variable footfall each and every new day. And when it comes to cost-friendly crowd control eq