73
As the number of passengers on airports is increasing day by day so do the need for their proper management also. According to a study, Lines have risen to 150-200 % at major airports. Passengers enter the airport with varied conditions and moods. Some are in hurry, and others are in worry. Some suffer from hunger and others from anger. To enable efficient operations at airports, it is utterly necessary to manage these people and the queues.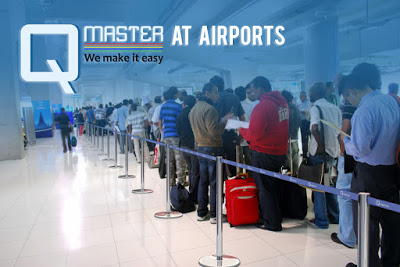 Among all other areas, passengers spend most of their waiting time in pre-boarding areas hence authorities need to put more attention here to enhance the customer experience. The main motto should be a client leaving that area with a smile on his face.
Qmaster makes it easy for the airport staff to ensure orderly flow of the queues and improve customer experience. Our versatile and quality solutions include Retractable Belt Barriers, Belt Stanchions, Rope Posts, Sign Boards, etc. which can manage a flow of large volume of passengers.
Retractable Belt Barriers enable the flow of queue to be handled smoothly and efficiently at security checkpoints, passport control, luggage inspection, etc. Easily Installable Retractable posts are reloadable by anyone. Along with directing the queue one can also control the access to some restricted area. The color choices and styles of Rope Posts and Matching Ropes gives an ultimate classy finish to the surroundings of airport.
Signboards from Qmaster let the passengers know about the way to follow avoiding any unnecessary confusion. Whether one wants to promote something or guide someone these sign boards with solid metal frame and polished finish results is an excellent communication method to the passengers.
Completely economic in range Qmaster takes the pride in giving the best solutions for airport along with maintaining elegance and alleviating the agony of waiting in lines.
Qmaster at Airports-Making Passenger Journeys as Pleasing as Possible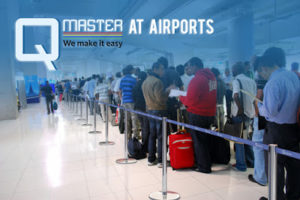 As the number of passengers on airports is increasing day by day so do the need for their proper management also. According to a study, Lines have risen to