61
Whether you have an upscale retail chain or a commercial building, you can now effortlessly revivify your interior scheme along with effectively guiding the public. Yes, you read it right! By choosing a line of efficient queue post or stanchions, you can span an uncluttered view at your premises.
A new products range by Q Master proffers queue posts consisting of different products with varied finish and color variants. You can pick a product fulfilling your environments' needs and requirements. There are options to buy from an assortment of crowd control products designed with prior care as per international standards keeping public safety and convenience in mind.
Selection of Posts & Barriers
Q Master has range of different queue posts and barriers in its kitty with additional floor mount & floor socket alternatives. We supply user-friendly and easy to assemble Retractable Belt Posts, Classic Rope Posts, Classic Chain Posts, Retractable Double Belt Posts, Café Barriers and Wall Mount Units. All these crowd and space control products are available in varied finishes and colors and can be customized as per different needs. The first offering in a finish is a powder-coated assorted color, polished chrome, gleaming stainless steel, and brass-finished.
Selection of Rope or Chain
We have fabricated velvet ropes and high tensile stainless steel chains to put together with the variety of posts. We offer plush velvet ropes in a variety of color choices to suit opulent settings with utmost grace and finesse. While our stainless steel chains demonstrate ruggedness at its best and are ideal for cordoning off areas like parking lots, historical monuments, and places alike.
Selection of Sign Holder Frames
As an addition, Q Master Presents hook-on sign holders that can be easily fixed atop any of the posts available. This post accessory is designed with a point-of-view to enable facilities offer a personalized guidance to the public by displaying a custom-made sign or information piece. A sign holder available in Landscape & Portrait frames makes it easy for the facility to communicate information regarding 'Form Line' or 'Be in Queue', and more.
All these above mentioned queue posts with belts, ropes, chains and sign holders are designed to lend a tasteful crowd control method for varied environments like banks, lobbies, restaurants, shopping centers, retail stores, museums, airports, showrooms and more.
Every queue post comes with a base, which is designed to guard the floor against unwanted scratches along with adding stability to the post. Also, these crowd control posts are easy to assemble as well as disassemble for the purpose of transport or storage. Whether your requirement is a classy rope post to cordon off private sections at your restaurant or to simply manage waiting queues at a public place, the Q Master brand offers you the ultimate space and crowd control management product range at a fraction of the opponents' prices.
Q Master-Eases out the Selection with Plethora of Offerings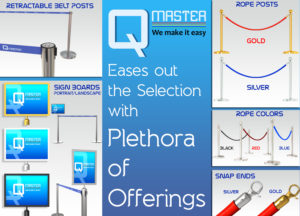 Whether you have an upscale retail chain or a commercial building, you can now effortlessly revivify your interior scheme along with effectively guiding th