71
Eid-Ul-Fitr, as you may know, is the worldwide celebrated festival of Muslims that marks the end of Ramadan (The holy month of fasting). This time Eid al-Fitr 2018 in Delhi will begin in the evening of Thursday, 14 June and ends in the evening of Friday, 15 June.
And thus, this weekend is expecting bigger crowds in malls, shopping centers, Bazaars and the other public places.
Celebrating the end of Ramadan, Muslim Families often go for the shopping to get the gifts for children and each other. And when the fasting is over, the eateries become the popular destinations to go for these families.
So, to make this affair comfortable and free from any unwanted incidents, QMaster has brought to you the products that can certainly help you in pre-preparation of handling Eid-Ul-Fitr Crowds.
Proactively implementing the proper crowd and queue management equipment will not only help you in managing the people but will also aid you in giving them the safe and happy environment for their celebration.
Suitable for restaurants, shopping centers, malls, amusement parks, aquariums or any other place that may expect the crowd this Eid-Ul-Fitr, we are ready to help you tackle them in the most reliable way.
The Belt Posts, Rope Posts will be there to guide them through the proper path, whereas signboards can be used as the best informational medium for people visiting your place for the first time.
One can also use these sign boards for informing the customers about currently running offers.
Not only just handling the crowd and managing the naughty elements, we are there for you to increase your profits too.
Yes, we provide you with the opportunity for personal branding with the screen and digitally printed belts. You can have your logo imprinted on them, or either your tagline or certain message written on these belts according to your personal choice.
The sign Boards can also be used for the advertisement purpose.
So, just tighten your belts and get ready to welcome your guests with a smiling face. The properly managed place and the nice looking area will certainly attract more and more people to your place, thus surely giving rise to your profit figures.
No more pushes and jerks, no more unwanted scenarios in the crowds. Just get the right tools at the right time and everything will flow smoothly on its own.
For further details, log in to our website http://www.qmaster.in. For other queries or to place an order, contact us at 099108 25579 or e-mail us @ info@qmaster.in.
Pre-Preparations for the Eid-Ul-Fitr Crowd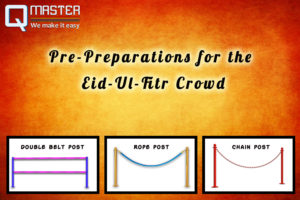 Eid-Ul-Fitr, as you may know, is the worldwide celebrated festival of Muslims that marks the end of Ramadan (The holy month of fasting). This time Eid al-F