63
Planning an event and expecting a sound crowd brings you to the need of some pre-arrangements at the entrance of your venue which is going to be loaded with fun filled excited people. Get some relevant ideas from QMaster to cope up with the crowd and make your event go smooth and serene.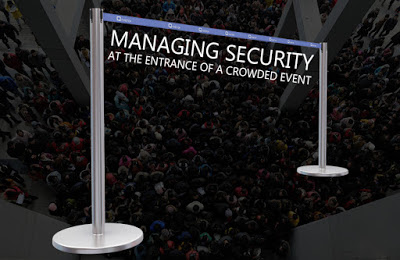 Parking Arrangements– Parking provision should be made in a way that it should not interfere with the doorway. And also the parking should be an off road parking for avoiding any disruption in traffic.
If you are running out of space for such arrangement than Retractable Belt Posts from QMaster can also be used to separate the areas of parking and the entrance.
Independent Gates for Entry and Exit– Enhanced traffic flow can be achieved by separate entry and exit gates. It will lead to increased speed of ingress, egress and regress.
Sign Boards from QMaster can be used to show the entry and exit directions.
Roles and Responsibilities-Giving separate responsibilities to the staff according to their abilities will avoid any confusion and disorder at the entrance.
Monitoring Behavior-Monitoring the behaviour of people is an important task in controlling any unwanted incidents at crowded places. If you find anyone with a sceptic behaviour, then it should not be ignored at any cost.
Separate Queues-Make different queues for ladies and gentlemen and also avoid making long serpent lines to serve visitors in a fast manner.
Retractable Belt Posts and Rope Posts are the way by which you can do this without any effort.
Arrangements for people with disability-Proper provisions for the persons with disabilities should be done, so as to avoid any inconvenience to them as well as to other people in a hurry.
The position of Ticket Collectors-Ticket Collectors should stand in a position that is optimum for them and the visitors too. Standing in the middle of the entrance can lead to accidents as sometimes people manages to crush the staff appointed at the gate in their haste.
For more information and product pricing visit: www.qmaster.in
Managing Security at the Entrance of a Crowded Event
Planning an event and expecting a sound crowd brings you to the need of some pre-arrangements at the entrance of your venue which is going to be loaded wit