75
Trade Shows can be defined as an exhibition at which businesses in a particular industry promote their products and services in an informative way.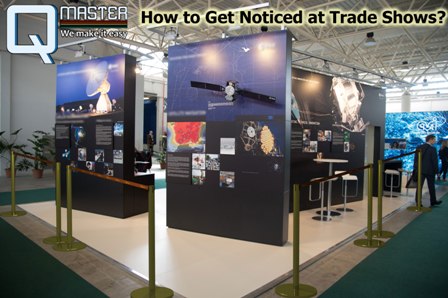 The business persons all over the world participate in such events to interact with fellow competitors, find new clients and help others to know about their brand in a better way.
Hence, leaving no stone unturned to get noticed by the prospective buyers' crowd, the companies are taking measures that not only make them capable of emerging in this competitive world, but will also make them stand strong and unique in front of their clients.
Here, we are suggesting you some of the strategies, tools, techniques and tips to get noticed and remembered for long by the prospective customers.
Take a look-
Stay Different, Stay Unique– Different and Unique Exhibition Corners tend to attract more clients towards them by creating the curiosity among the visitors to know more about the brand.
Focus on the right advertising– Include the right set of elements for the right kind of advertisement of your booth.
Café Barriers, Merchandising Bowls, Belt Posts

with an imprinted brand name can do wonders for your marketing strategy.

Bring the memorability into your booth– People will remember your name if you give them happy memories on the first hand. Offer them the small but interesting takeaways, the experience that become their memories and the facilities that are small yet useful for the crowd at that place.
Highlighting is the Key- Highlight your key product or the services in the center and make it more attractive by giving it the star attention.

You can do this with the inclusion of

VIP rope posts

inside your booth, which never fails to attract the attention of audiences and gives an elegant, luxurious look to the places with heavy footfall.

Keep it controlled and managed– If you feel that the crowd is big and the lines are long enough to schedule a crowd management scheme, do use the proper tools and mechanisms for crowd control and queue management.
Belt Posts, Rope Posts

can be used as an effective

crowd control equipment

to make the visitors comfortable and feel at ease at your place.

Keep them informed– Sign-Holders are meant to keep the visitors informed in a better way. One can put the directional signs to direct the public towards their booth and also can use these stand-alone-units to put some relevant information about the offerings they are giving to the customers over this corner.
This way, one can not only increase the number of followers for a brand but will also be able to create the memories to last forever in the minds of people. To know more tips about the event management and crowd control, treat the comment section below as your voice and let it reach us at the earliest.
We will be more than happy to assist you with any related queries. To order queue posts, queue managers, rope posts, belt posts, signboards and other accessories, do visit our site http://www.qmaster.in/
You can call our sales support team at 9910825579 or send us an email at info@qmaster.in.
You can also fill the contact us form from the link: http://www.qmaster.in/contact-us/ so that we can call you to resolve all your queries.
How to Get Noticed at Trade Shows?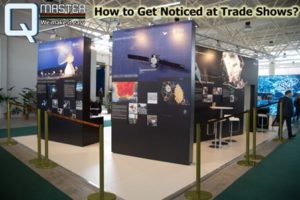 Trade Shows can be defined as an exhibition at which businesses in a particular industry promote their products and services in an informative way. The bus