71
The Idea (Qmaster Stanchions) : Nothing can be as good as making a profit even out of futile circumstances. Grabbing every opportunity to promote sales is very crucial for businesses, especially in the retail sector. Capitalizing on customer abeyance is like killing two sparrows with one stone as
It procures revenue generation while keeping customers engaged
Decreases perceived wait time.
Streamlining the flow of clients to compel them to join the queue by organizing a well-planned waiting line and introducing intelligent queue management, thereby, cognitively improvising on the experience of customers along with brand visibility and impulse sales, which as researches show is the biggest factor in customer relation process.
Organized lines are excellent opportunity to uplift your impulse sales by in-queue merchandising strategies. Therefore, focusing on placement of slow-selling products in practical locations would skyrocket your impulse sales and maximize customer delight. As suggested, providing engaging facilities to customers while they get bored, standing in dead queues would resolve waiting line problems and deliver customer satisfaction.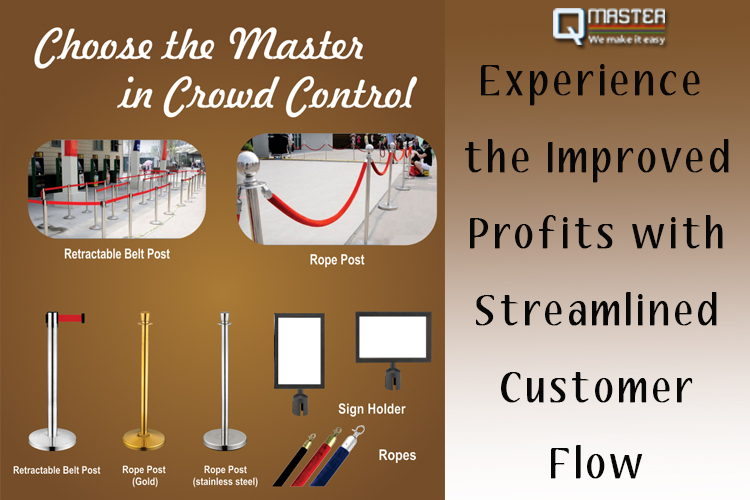 Qmaster is the one-stop solution for the queuing system, crowd control management, free guidance on in-queue merchandising. Kick start the journey to enhance impulse sales in Qmaster style, using Qmaster retractable queue barriers and accessories.
How can it be achieved?
Mark up clearly visible and rationalized queues with Qmaster belt stanchions to build customer flow and transform the lines into the lucrative center with the limited merchandising options.
More to Explore:
Qmaster Single Belt Post/ Rope Post – Qmaster Queue Posts assist you to set up the single as well as multi-line queues easily and instantly. These posts use minimal of floor space and streamline the line while allowing them a smoother flow. Sophistication complemented with leading security edge makes Qmaster Stanchions a seamless solution for internal applications.
Stand Alone Unit – Intriguing stand alone with modern design blended well with solid metal frame and polished finish stand out to the customer where they can be seen as A3, A4 in Landscape & Portrait orientation. Its vertical design offers an extensive view without consuming much of the floor space.
Finally, branding if strategically done, can bring in rapid profit and ultimate customer experience yet promoting your brand exceptionally. The just right in-queue arrangement distract the clients from long boring waits while they are exploring your products and new offers. Such distractions make a huge difference to your brand value by engaging customers in a productive manner turning them happier than usual.
Qmaster Stanchions - Experience the Improved Profits with Streamlined Customer Flow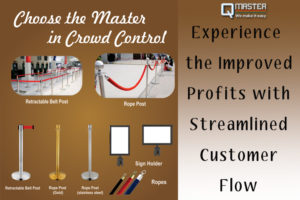 The Idea (Qmaster Stanchions) : Nothing can be as good as making a profit even out of futile circumstances. Grabbing every opportunity to promote sales is