77
Crowd Control: Sporting Events are probably the best occasion for friends and family to come together for fun. World Cups and Kabaddi leagues which are among the major sports events of India are generally supported by the myths of widespread benefits through policy makers, but they are representative of unease also. When one starts to think about the evidence of discomfort felt at these venues, one is left with strategic policy dilemmas: whether event managers should relieve crowd pressures or block the over excited fans attempting to force their way into the stadium. The excitement of a long-awaited game of cricket, basketball, tennis or any other sport is clearly unmatchable, but inadequacies and deficiencies in crowd management result in disappointment for fans and sometimes ends up in injuries and fatalities. Falls are the most common phenomena in a crowded space.
Customer flow– Each and every step along the way needs to be planned to prevent any unwanted chaos. Starting with the queues at entrance and finishing with an orderly exit it is a task that needs to be fulfilled with great responsibility.
Early ingress and late egress– Engaging the crowd in some exciting activities before the event and letting them come before the event reduces crowding within the venue at a particular time and late egress will limit traffic pressures on external transit.
Video Surveillance– Heated emotions during a sporting event can be monitored by CCTV's and any disturbance and nuisance among the masses can be controlled in an efficient manner.
Directing the spectators– Personnel helping the spectators finding their seats, giving them directions to the stadium and it's features lessen the possible number of victims and avoid the regression of individuals psychologically and behaviorally.
Directions can also be provided by Sign Boards from Q Master.
Power Backup– Suddenly the light is gone, and the crowd becomes uncontrollable- that can be the case if proper Power backups would not be installed for the alternative source of lighting.
Queue Barriers– Queue barriers do an awesome responsibility for the safety of scores of people. They clearly define the routes, cordon off dangerous areas and also used for redirection purposes.
Q Master provides you a wide range of Crowd Control products including Retractable Belt Barriers, Belt  Stanchions, and Rope Posts etc. to carry out the task of barricading with a great efficiency.
The above given approaches are the least costly means of preventing crowd disasters and can be implemented with great ease.
Crowd Control at Sporting Events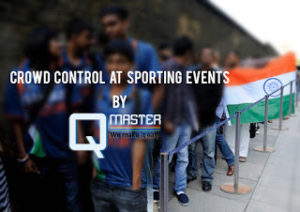 Crowd Control: Sporting Events are probably the best occasion for friends and family to come together for fun. World Cups and Kabaddi leagues which are amo