81
Q-Master (Rope Post) brings amazingly effective and sophisticated equipment to control crowd and manage proper queues in crowd premises without burdening your pockets. Q-Master Rope Post is an ideal crowd barrier to manage crowd and maintain decorum in hotels, universities, retail stores, super markets, theatres, VIP events, galleries and various others while lending them all an upscale appearance. Maintain the perfect flow of crowd even during peak times with these safe and stylish rope posts.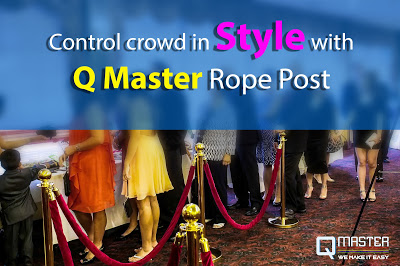 Exhibiting engrossing design complemented with Silver and Gold finish, it blends well with every décor and delivers attractive grace. Low on price but high on versatility, flair and utility, they are great for multi-purpose use. You can cordon off access to restricted areas and reserved seating sections in hotels and theatres with these posts without offending the crowd and customers and without giving them a sense of barrier. Our classic rope posts mark an elegant red carpet area to accentuate platform for special offers, display of sample dummies etc. in supermarkets, galleries, museums and exhibitions. Blend up class and discipline together in VIP events by forming orderly queues of crowd outlined with these posts and cordoning off stage or podium to control crowd from reaching there.
Q Master Rope Posts are made from high quality material and come with in-built rubber protectors to offer sturdiness. These flexible rope barriers are convenient to assemble and do not involve any other tool for support. Designed exclusively keeping in concern aesthetics and behavior of properties, it is an elite preference for queuing, cordoning and guiding public or customers in all industrial spheres. This stunning and economic queue manager and crowd control barrier promises that the things run effortlessly in your premises by barricading off areas and informing crowd courteously. Our posts are absolutely easy to fix, displace and maintain. One of its prominent features is its rust resistant body which counts on its reliability and robustness in all weather conditions.
Rope Post Product Features
Available in Gold and Silver finish

Comes with rust resistant body

Comes with in-built rubber floor protectors

Easy to assemble and replace

Durable and stylish

Belt color variants: Black, Blue and Red
QMaster is a leading brand that provides an extensive range of Rope Posts to different industries. We guarantee superior quality crowd control Rope Posts at affordable prices. For more information and product pricing, please click here — www.qmaster.in