62
All of us must agree with the fact that Customer is the King and for any business success it is crucial to keep the customer happy and satisfied at all costs. The satisfied customer is the key to bring multiple re-visits to your store and ultimately the increased profits.
Most common example of customer experience is the Retail Stores where they are required to manage the need of the customers along with keeping them content with the services too.
Often the retail owners face the biggest challenge of customer service in the check-out queues where they need to show high level management and control skills without even letting the customers feel that they are being controlled.
The most common scenarios witness that customers are not often ready to wait long for their turn and this comes out to be one of the biggest turn off for your loyal customers. And by keeping them waiting for a long time can give you a risk of losing lots of potential clients.
Here we are going to tell you the 4 Strategies that can be used to enhance customer experience at your place in best possible way:
Measure and Manage- Take a prior idea of how much crowd you may be handling for a particular day. This measure of crowd will make you able to do the arrangements in advance and thus will lead to proper management of the crowd at your place.The number of belt posts or rope posts can be increased or decreased conveniently on the basis of expected crowd.
Keep them busy with in-queue merchandising– The more they are busy, the less will be the tiredness and boredom. You can keep your customers busy by installing sign-board having interesting quotes written on them or by placing a merchandising bowl over the top of your existing queue management posts for the nice customer experience.
Divide the Queues- Diving the queues according to certain criteria can help you enhance and maintain service efficiency. For example you can divide the queues on the basis of their order length or the separate queue can be formed for ladies or older people. This can be achieved with expertise by Retractable Belt Posts from QMaster.
Queue Management according to the Décor– The place that looks beautiful and pleasing often attracts more customers and help them retain in a good mood. The rope posts and belt posts from QMaster are available in different colors and can be chosen according to the theme and décor of your place.
This way, you too can now make your place the favorite one of your visitors and can give them the experience that is another name of comfort.
Basic Strategies to Enhance Customer Experience at Your Business Place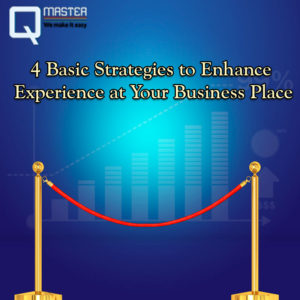 All of us must agree with the fact that Customer is the King and for any business success it is crucial to keep the customer happy and satisfied at all cos