69
You have planned a New Year's Party at some grand venue. So many dignitaries of the city are on the visitors' list. You are working hard on the decoration and other stuff. But have you ever wondered the one thing that you may miss at the moment of pre-planning is the entry management of your venue that will be filled with so many VIP's?
Taking away this worry from you, QMaster gives you the option from its wide range of velvet rope posts, that may not only help in making your entries look good but also help you to keep your entrances and exits ordered and controlled for better management.
Rope Posts with Velvet Ropes from QMaster are available in highly polished gold and stainless finish with built-in rubber protectors. These rope barriers are meant to be assembled quickly without requiring any high-end external tools.
Various uses of these beautiful rope barriers include-
Partitioning/ sectioning of the areas

Queueing for better control and management

Cordoning off the unsafe or restricted areas.

Crowd Control Purposes

Directing the flow to specific destination

To feature upscale exhibits like artworks or the things requiring special attention at the party.
Now talking about the spark, these velvet rope posts with customised colored ropes, suits just any kind of décor and the excellent stability with the touch of shine in the finish makes them look stylish while bringing robustness in the use.
Giving an aesthetically pleasing look, as opposed to other dull and boring crowd control solutions, these rope posts adds a different charm to the place and that too with a fully functional behaviour as any other stanchion or barrier.
The classic and elegant rope options in the rope barrier have been the standard of VIP events from past so many years and almost every red carpet event have witnessed its presence too.
The semi-rigid nature of ropes with the velvet cover keeps them strong as well as soft at the same time.
The durable snap ends are available in the desired finish of customer's choice and hence gives full control in the look and feel from the rope posts at a place.
Best to be used for VIP areas, museums, banks and upscale theatres, this style of rope barriers is made to look luxurious and royal.
So whether your need is to include the rope posts for the event, or you want it for the managed entries, rope posts from QMaster are always there to add an element of class and spark to your places with heavy footfall.
Add an extra spark to your New Year Celebrations with Rope Post from QMaster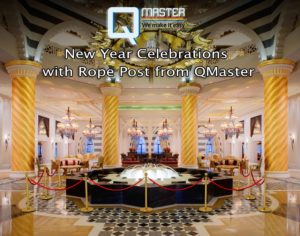 You have planned a New Year's Party at some grand venue. So many dignitaries of the city are on the visitors' list. You are working hard on the decoration