65
The view of long lines and extended wait time can turn even the calmest customers frustrated and angry. And due to this frustration, they most often tend to leave the store, thus affecting the sales and profit numbers.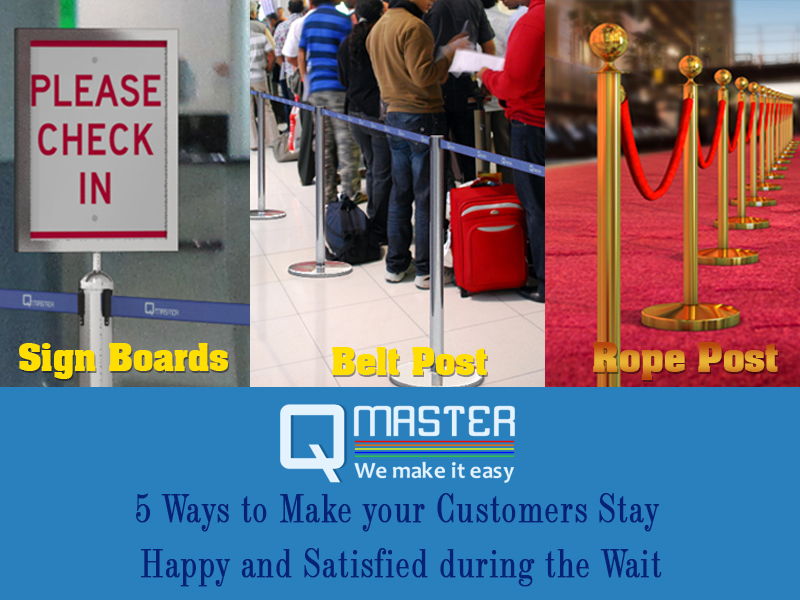 The business owners are searching for the ways to reduce this trend and here we have brought out the tried and tested techniques through which they can design a queue so that their customers don't walk out of frustration.
Take a look at below points and choose the ones that best suit your environment:
Let them know their expected waiting time: Studies have shown that finite waits are less frustrating than the uncertain amount of waiting time. So let your visitors know beforehand that how long they would be required to stand in a line for their turn.
Well-Formed Queues always give the right idea of how many persons are left to be serviced before the particular turn.
Keep them occupied and engaged during the wait time: When the customer is engaged and diverted from the boring wait, it seems shorter and less stressful. So, try to give your lines that touch of fun with various in-queue merchandising available in the market.
The sign Boards, Merchandising bowls, printed belts of belt posts, café barriers with interesting content are some of the ways to do so.
Keep the queue simple and obvious: Too many turns and twists in the queues can also irritate the waiting person, standing in that line. So, try to keep the structure of your queue clear with well-marked ways to follow. Mark the clear starting and ending points of the queues to avoid any confusion and thus to promote queuing culture at your place.
You can mark these start and end points with the help of Sign-Boards installed at the right place.
Avoid the chaos: The chaotic situations are also one of the main reasons that are responsible behind customers walking out with frustration. You can avoid this chaos by installing proper queue management equipment like rope post and belt post etc. for the well-established system of queues.
The QMaster can make these belt post and rope post available to you at the best cost in the market.
Keep the order fair and transparent– Instruct your staff to serve the customers on the basis of First-In-First-Out order only. Or you can also choose some other fair means to serve your customers in a satisfactory way.
The Queue Management Equipment if installed in a proper way will automatically make the order fair for your satisfied customers.
If you wish to get any help related to this or you want to order the related product, call us today at 9910825579 or can send us an email at info@qmaster.in
5 Ways to Make your Customers Stay Happy and Satisfied during the Wait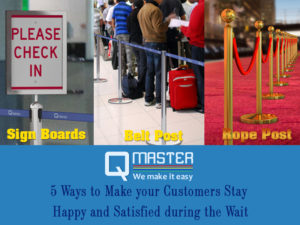 The view of long lines and extended wait time can turn even the calmest customers frustrated and angry. And due to this frustration, they most often tend t