54
No matter, how big is your business but to fail in keeping track on shoplifting or stealing or shrinking in your place is just unacceptable. You cannot afford any theft on your merchandise or any of your customer's possessions if you aim to run a healthy and fruitful business. It might seem difficult to deal with theft, but if strategized, it is indeed simple to manage. Have a glance at Qmaster's useful ideas to shut down burglary before it takes place.
Be aware of at-risk items.
Valuable, small and easy to pick items like jewelry, compactly packed gifts, etc. are the prime target of pickpockets. Prefer to keep such articles in a closed case and under the supervision of counter attendee to disable access to golden-ticket products. True is that you can't keep an eye on everything every time but by keeping valuable products within the range of your vision could be helpful.
Train your staff to watch for theft.
No one else would help you in controlling theft in your venue as much as your employees can. They can be the best defense against burglary if properly trained. Prepare them well to be attentive and smart enough to look out for abnormal activities to avoid potential scams. Ask your staff to ask the customers how they can help them in shopping and thus know the customers' intention. Check every client accurately while entering the store.
Use hidden cameras, display screens and alarms to immediately catch every unusual happening. Keep valuable dummy products in a solid transparent case and cordon the area with Qmaster Queue Post to restrict access to the crowd.
Advertise the penalties for stealing.
Display your shoplifting rules in different parts of the store prominently to beware thieves well in advance of the theft consequences. Alert the possible shoplifters by posting stealing warnings on Qmaster Sign Holders.
Pay attention to dressing rooms.
It might create a mess to run back and forth to unlock the trial rooms, but it is indeed necessary. Appoint a staff member in front of the dressing room to keep a check on the number of dresses a customer is taking inside to try. Once the client is done with all the trials, count the items again.
Engage with customers.
Keep communicating with clients in every section of the store right from their stepping to stepping out. Ask them if you could be of any help to them in finding the right part or the preferred product. It not only extends responsive customer service but will help you to monitor situation making it difficult to steal.
If you sincerely want to keep a tag of 'Theft Free Store' then it is necessary to equip it with multi-cameras, notice boards, security mirrors, display signage and tight security checks.
5 Simple Tips to stop the burglary at your business place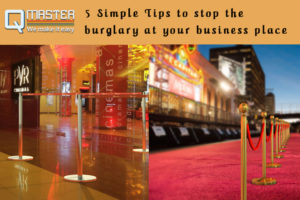 No matter, how big is your business but to fail in keeping track on shoplifting or stealing or shrinking in your place is just unacceptable. You cannot aff